CRP Service
Analysis of the regulation of service in civil proceedings in selected EU countries with an emphasis on the effectiveness of the method of service and the possibilities of electronic service.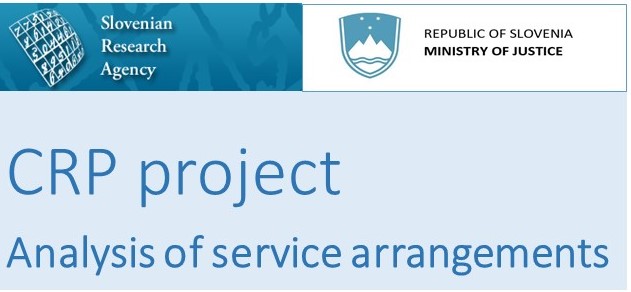 DESCRIPTION
Within the research, different service systems will be examined in more detail. With legal comparative research analysis, we will analyze the different ways of service, with special attention being paid to identifying errors in service, their classification and the possibility of convalidation. The effectiveness of court proceedings is not measured only by their speed, but also by the effective protection of rights that clients have during the proceeding. The legal proceeding that is a subject of study is based on two sides with, in general, opposed interests. Therefore, an effective service system is essential for protecting the rights of both sides. An effective service system is one that provides correct service of documents to the addressee. Regarding this issue we will be addressing the fiction of service, which establishes a presumption of service, although the documents have not actually been served. This is particularly problematic when it comes to cross-border service, since the fiction of service does not meet the minimum procedural standards laid down by EU service regulations. We will try to determine how much the convention provisions on the protection of fundamental rights under the ECHR are incorporated into national procedural law on service. The existing arrangement will be analyzed from the aspect of constitutional legal protection, and the right to a fair trial and legal remedy as well as related convention rights and possibilities for amending the statutory arrangement.
We will point out the advantages provided by electronic service and do an analysis of the existing technical possibilities as well as a proposition for a more effective regulation of electronic service. We will compare the different electronic service systems with a distinction between open and closed service systems, we will also consider the European arrangement within the statutory validity of the eIDAS regulation (Regulation (EU) No 910/2014 of the European Parliament and of the Council of 23 July 2014 on electronic identification and trust services for electronic transactions in the internal market and repealing Directive 1999/93/EC).
DURATION
1 November 2019 – 31 October 2020
FINANCING
The Project is financed by the Research Agency of the Republic of Slovenia and the Ministry of Justice of the Republic of Slovenia.
PROJECT GROUP
Faculty of Law, University of Maribor (FL UM)
prof. dr. Vesna Rijavec, bibliography
izr. prof. dr. Tjaša Ivanc, bibliography
prof. dr. Tomaž Keresteš, bibliography
dr. Andrej Ekart
CEPRIS d.o.o.:
dr. Boštjan Kežmah
dr. Urška Kežmah
WORK-PLAN WITH TIMELINE
Milestone 1

Comparative legal analysis of procedural arrangements in the field of service system in Croatia

20 January 2020

FL UM (Rijavec, Ivanc, Keresteš, Ekart, Kežmah U.)

Milestone 2

Comparative legal analysis of procedural arrangements in the field of service system in Austria

1 March 2020

FL UM (Rijavec, Ivanc, Keresteš, Ekart, Kežmah U.)

Milesotne 3

Comparative legal analysis of procedural arrangements in the field of service system in Germany

1 April 2020

PF (Rijavec, Ivanc, Keresteš, Ekart, Kežmah U.)

Milestone 4

Comparative legal analysis of procedural arrangements in the field of service system in Estonia

1 July 2020

PF (Rijavec, Ivanc, Keresteš, Ekart, Kežmah U.)

Milestone 5

Comparative legal analysis of electronic service system (Croatia, Austria, Germany, Estonia)

1 August 2020

CEPRIS (Kežmah B.)

Milestone 6

Končno vsebinsko poročilo

31 October 2020

PF (Rijavec, Ivanc, Keresteš, Ekart, Kežmah U.)