Assistant Professor Petra Weingerl, Magister Juris, DPhil (Oxford), Bachelor of Laws, BSc (Econ)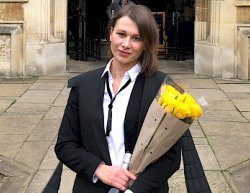 Assistant Professor


Telephone: +386 (0) 2 250 42 29
Office: 205/2
Department: Department of European and International Law and International Cooperation
Courses:
Undergraduate degree programme
EU Legal System and Institutions
The EU Internal Market
International Public Law
Advanced English Legal Terminology
An introduction to nature conservation legislation in the EU and in Slovenia (The Faculty of Natural Sciences and Mathematics)
Master's degree programmes
Judicial Protection in the EU
European Judicial Protection
European Private Law
Doctoral degree programme
Fundamental Rights and Private Law
Law, Ethics and Nomography
Biography:
Petra Weingerl is an Assistant Professor at the Faculty of Law, University of Maribor. Petra completed her doctorate and Magister Juris (with Distinction) at the Faculty of Law of the University of Oxford. Her thesis dealt with effective judicial protection and damages in EU law. It was supervised by Professor Stephen Weatherill. Before commencing her DPhil, she worked at the Court of Justice of the EU in Luxembourg and at Higher (Appellate) Court in Ljubljana. She was a visiting researcher at the European University Institute in Florence and at the Max Planck Institute in Hamburg. Short research stays or projects at the law faculties in Münster, Genova, Leuven, Wrocław. Teaching and researching in the field of EU Law, international law and comparative law (European private law, consumer protection, internal market, AI, circular economy…). She has written widely on various EU law issues. She is a Member of national and international research projects, acted as a speaker at numerous law conferences and seminars in Slovenia and abroad (Oxford, Birmingham, Leeds, Bilbao, Dubrovnik, Geneva, Leuven, Vienna, Budapest...). She is coaching students for the European Law Moot Court Competition, the Philip C. Jessup International Law Moot Court Competition, and supervising students involved in Amicus Curiae project. She is a member of a working group of the Global Partnership on Artificial Intelligence (GPAI), a member of the National Contact Point for the OECD and a member of the Working Group on the Implementation of the National Action Plan on Business and Human Rights of the Republic of Slovenia. She is a member of the Society of Legal Scholars (UK), fellow of the European Law Institute (ELI, Vienna), a member of the Academic Association for Contemporary European Studies (UACES, London), a member of the International Law Association (Slovene branch) and a supervisory board member of the Slovene Association for European Law. She received the Rector's Award for her undergraduate studies. In 2018, Petra received "Young Lawyer of the Year" Award, awarded by the Slovenian Lawyers' Association. In 2019, she received an award "Večer's Scientist of Styria 2019".