Associate Professor Tomaž Keresteš, Ph.D.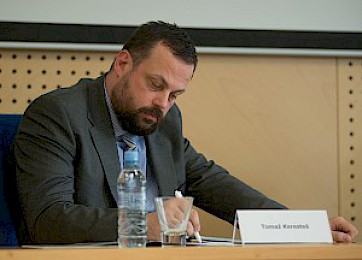 Telephone: +386 (0)2 250 42 62
Office: 010
Department: Department of Basic Legal and Other Sciences
Courses:
Jurisprudence (lectures)
Philosophy and Theory of Law (lectures)
Biography:
Education: Graduated at the Maribor Faculty of Law in 1996, finished his Master of Science at the CEU, successfully defended his doctorate in 2004 at the Maribor Faculty of Law.
Employment: Worked as a young researcher and assistant for civil and company law at the Maribor Faculty of Law since 1998. Obtained the title Associate Professor in 2004, lecturing in the fields of Theory of State and Law and Civil Law.
Life motto: Melius est petere fontes quam sectari rivulos.